A wedding proposal is a big deal. A huge step to forever. It takes delicate and detailed planning. You don't want to be spooky with it and at the same time, you want to surprise her and ensure you get a yes! As always, we are here to help with a proposal planning checklist. You definitely need one to proceed on this mission.
Here are things to do or consider when you're planning to propose to her:
1. Be sure she's ready for marriage and ready to marry you:
Assumption, they say, is the least form of knowledge. Never assume she's ready to marry you because you guys vibe well together. Marriage is a big deal and can be overwhelming. You don't want her to be overwhelmed and get cold feet. Ensure you ask her stylishly if she's ready for marriage. Alternatively, talk to her friends to ask her in your stead. Stylishly!
2. Get her parents, guardians or siblings' blessings and keep them in the loop:
Many say this is old fashioned. Maybe, maybe not. We beg to differ. You will want to keep someone in the loop – someone she respects, loves and answers to, preferably her parents. If she has people she holds in high esteem and they have a great influence in her life, there is nothing bad in giving them a heads up of your plans and development.
While you might not necessarily need their permission, after all, she chose you, this will create a great relationship and easy flow of events between you and your future in-laws or whoever the person is. Moreover, a wedding proposal is more fun when you carry her folks along.
3. Get her ring size and find out what type of ring she prefers: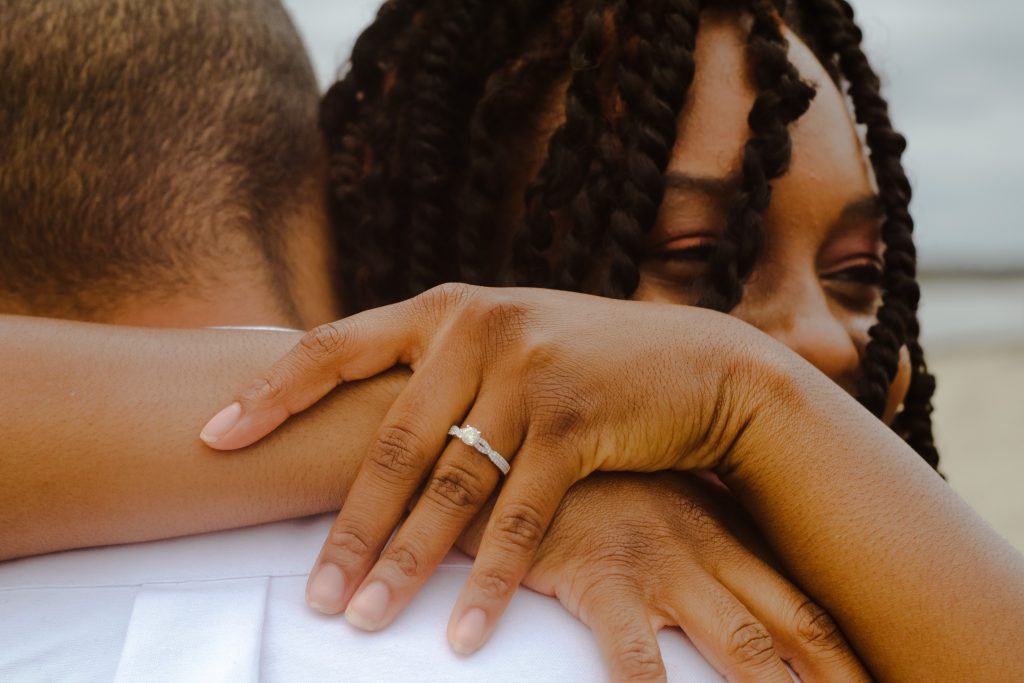 A good number of people have had to either return the proposal ring after the proposal or buy at least two to be on the safe side. This is because they either didn't get the ring size or she does not like the type of ring her man got. You can avoid this.
The best way to get this done is to ask her mom, siblings or best friend what type of rings she likes. They can also help you in finding out her ring size. Alternatively, if she's someone who loves the gram, you can check out her screenshot folders or what she likes on IG.
You want it to be a surprise, yes? Keep her out of the loop. Use proxies. You'll need the perfect ring for this wedding proposal.
You can read our article on how to measure your ring size and that of others.
4. Find out what type of proposals she likes or reacts to online:
Once again, assumption is the least form of knowledge. Don't assume what she likes. Not everybody likes the surprise party kind of proposal. Not everybody likes 'paranran' and all that comes with it. Check out the kind of proposals she reacts to on social media.
Stylishly, in your conversations, ask her how she prefers to be proposed to and where she wants to be proposed to. How many friends does she want around and should there be music, photographers, and whatnot? Alternatively, ask her best friend, group of friends or siblings. Employ them as your planning committee. They will gladly do everything for you on the low.
5. Insure the proposal ring:
Many people leave this out, however, it is important you insure your rings including the proposal ring. Insure it before you finally hand it off. You can read our article on how to ensure your rings are not damaged here.
6. Timing and Location:
Timing is super essential in plannings like this. You don't want to propose on a day she's fagged out and super exhausted from work and probably dizzy. Ensure she is free, relaxed and probably in a mood to party.
Also, ensure that you scout for a perfect location. And if she prefers an indoor kind of proposal, you can spice things up by doing a bit of venue decor. Remember to do the planning with people who know her well.
You can also invite extras like musicians and professional photographers to make the moment more memorable. Alternatively, you can play her favourite love songs in the background.
7. Hire Extras:
Extras will make your day more memorable. Whether or not you're planning an elaborate proposal, a few extra will do you tremendous good. We recommend at least a photographer to help you keep memories of the day. Memories are important.
You can also hire a solo musician if you're not thinking of something elaborate. To make it more romantic and help her relax, you can hire a car service to pick her up and drive her down to the location.
Ensure you make the day as memorable as possible for her.
8. Propose:
Yes! The time is now! This is the moment.
You've done all there is to do to get to this moment, the most important moment. Once you've figured the time is right, you can pop the question. You can speak from the heart or prepare a note ahead in case you get nervous.
Ensure you tell her how beautiful she is and how amazing she has made your life.
We hope she says yes and the journey to forever begins.
10. Party/ Spread the News
Depending on what you guys decide, you can decide to spread the news of the proposal or party. It is your moment! Enjoy it!
Know someone who is planning a proposal? Share this with them!