Hello Lovelies, this week we had an interview with a professional Makeup Artist, Fabio Makeovers. She is quite a charm and also she tags us in all her pictures on Instagram (lol).
Here's what we asked her, to get to not only know her better but also for insights into the makeup world through her eyes.
Enjoy.
Kindly tell us a little about yourself and how you got into the makeup business?
Oladele Ifeoluwa, C.E.O of fabiomakeovers, I'm from the western part of Nigeria (Osun State). A graduate of Industrial Chemistry. So I'm an industrial Chemist turned PRO MUA.
When did you decide "okay, this is it, I'm going to be a professional make up artist?"
I grew strong love for beauty from craddle but makeup was not the thing then, so I dabbled into hair….but found passion for makeup along the way.
What were the early days of your career like and what challenges did you face?
My early days infact were not easy, got a basic training few years back and then there was no highlight/contouring and the surgical aspect of makeup. With the competitive market, it was really hard to officially start makeup as an entrepreneur. I decided to work as an assistant to a PRO MUA after a lot of encouragement from my fiancee (God used him) but it wasn't easy filled with  a lot of challenges.
Had to tell myself one day in my Me-time, Ifeolu you are a graduate coming to work as a sales girl/assistant earning stipend but I knew i was on the right track and that was just part of my story. Also, having to struggle with a father that didn't see your dream and was totally against it.
But with God, my fiancee, my supportive mum and ever honest critics (siblings), I officially decided March, 2016 to start Fabio Makeovers as a company of her own.
Imagine you make a mistake while you apply makeup to a customer. How do you handle it?
Mistakes are bound to happen, but it is how you handle the situation that matters. As an artist, your face must not wear a confused look (because that is a wrong message to your client). As long as she is still on my seat, i will amend/correct my mistakes. Listening and communicating to your client really goes a long way in this business.
A lady has 5 minutes to do her makeup—what can she do that would make the most difference?
A client comes in, and wanna be fixed in 5 mins? The most important thing
Neatly carve and shape brows .
Nude eyes preferably to reduce time on  shadow colors blend and transitioning.
Apply primer, foundation and powder.
Lipstick and a little glow on (preferably)
And I can tell you she is good to go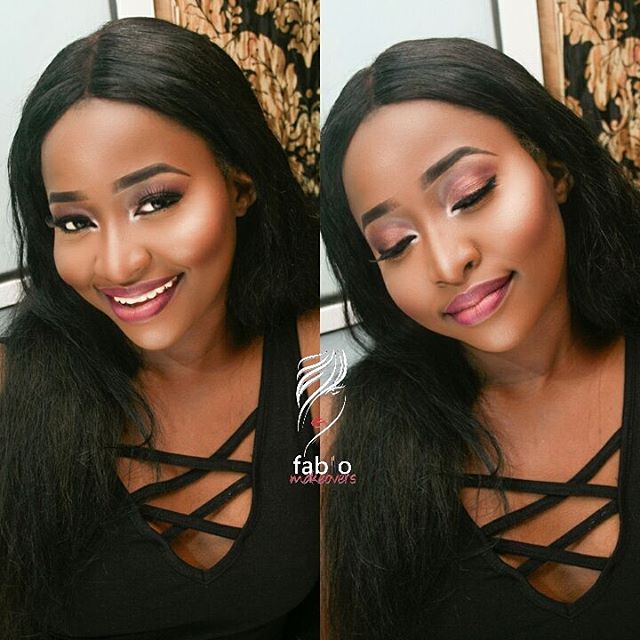 What three makeup item should no woman leave home without?
3 makeup items
Powder, Lip-gloss/lipstick (the lips must always stayed hydrated), Mascara (It defines the eye)
Tell us about a time you had a very stressful day at work and how did you handle it?
Most stressful days are when my students decide not to show up and I'm stuck with home services and still getting calls for unbooked studio services (it makes me tensed and confused). But I always stay transparent to clients so they understand the situation and I think that has been helping.
What are the 3 things you would always tell a woman to help with her makeup?
3 things that help makeup on women are….
A good  and flawless skin (makeup's best photoshop)
Using the right makeup products on the client's skin type (so you have to understand if your client is oily/dry skinned)
The less heavy a woman's makeup is, the better.
Can you recall a time you had to face a frustrated customer who wasn't satisfied with the makeup services you provided. How did you handle it?
Handling an unsatisfied client….
I always have at the back of my mind that customers are always right, I try as much as possible to listen and communicate and do my own very best while rendering services.
So even the stubborn clients are always forced to just be satisfied. I can be over patient with clients though at times it can be frustrating but in any ladies' business you meet different personalities.
How do you communicate with the photographer you're working with on a shoot to achieve your goals as well as his/hers?
I always try to have a cordial relationship my co-wedding vendors, photographers to be precise. I always ring it in their ears (I need my portrait shots ooohh). Communication is key in everything for me.
What is the one advice that you would give an upcoming makeup artist?
You got flare for makeup artistry? You are into it already? You are upcoming?
Just keep working hard, pray hard. Be bold, meet and communicate with people, even if they tell you NO at least you have tried. Keep expressing your art. Don't think about money now, set a brand, develop your skills with that you will build your clients and money will flow in.
God bless us.
Interesting read, don't you think?  🙂