Selecting items for your bridesmaids gift box can be a bit tricky because everyone is different and may not like the same things. Bola may adore lavender fragrance while Ejiro detests it. Why is it even important to add bridesmaid gift boxes to your wedding planning list?
Giving out gift boxes to your bridesmaids shows that you appreciate all their efforts towards making your day extra special. For this reason, you do not want to include gifts that will go unappreciated. Here is a list of items you should consider:
1. Matching Earrings:
This is a thoughtful bridesmaid gift box idea. Earrings never go out of style and a lady can never have too many pairs. It is even better when all your bridesmaids get to rock the same style of earring. They can be worn either at the bridal shower or even during the wedding and definitely after.
2. Fancy Umbrellas:
Umbrellas are most appreciated during the rainy season. So, if your wedding celebration falls during this season, consider adding this item to your bridesmaids gift box. Fancy umbrellas come in different eye-catching designs and can fit into handbags without sticking out unnecessarily.
3. Satin Bonnets:
This fashion trend is not going away anytime soon. One benefit of a satin bonnet is that it helps your hair stay untangled all through the night. It will also help your bridesmaids retain moisture in their hair better. Bonnets come in various styles, designs and patterns. They usually have elastic or adjustable ropes so you do not need to worry about size and fitting.
4. Pocket Perfumes:
These are super easy to carry around and usually come in various fragrances. Pocket perfumes are also relatively inexpensive. We advise that you get enough variety so your bridesmaids can exchange with one another in case they do not like the one in their gift box. A substitute for these pocket perfumes is Body Mists. The preferred ones contain shimmer. You can also get those, or both if you are up for it.
5. Water Bottles:
Your girls will appreciate fancy water holders. If you want, you can customize your wedding details on it. By doing this, it serves as a souvenir so they can remember you and your partner even after the event. If not, you can add it to the bridesmaid gift box the way it is.
6. Eye Shadow Palette:
You can help the ladies complete their make-up must-haves. Trust that your bridesmaids will appreciate you for putting so much thought into the gifts. Eye shadow palettes come in different sizes and qualities. A standard palette has about 8 colour shades.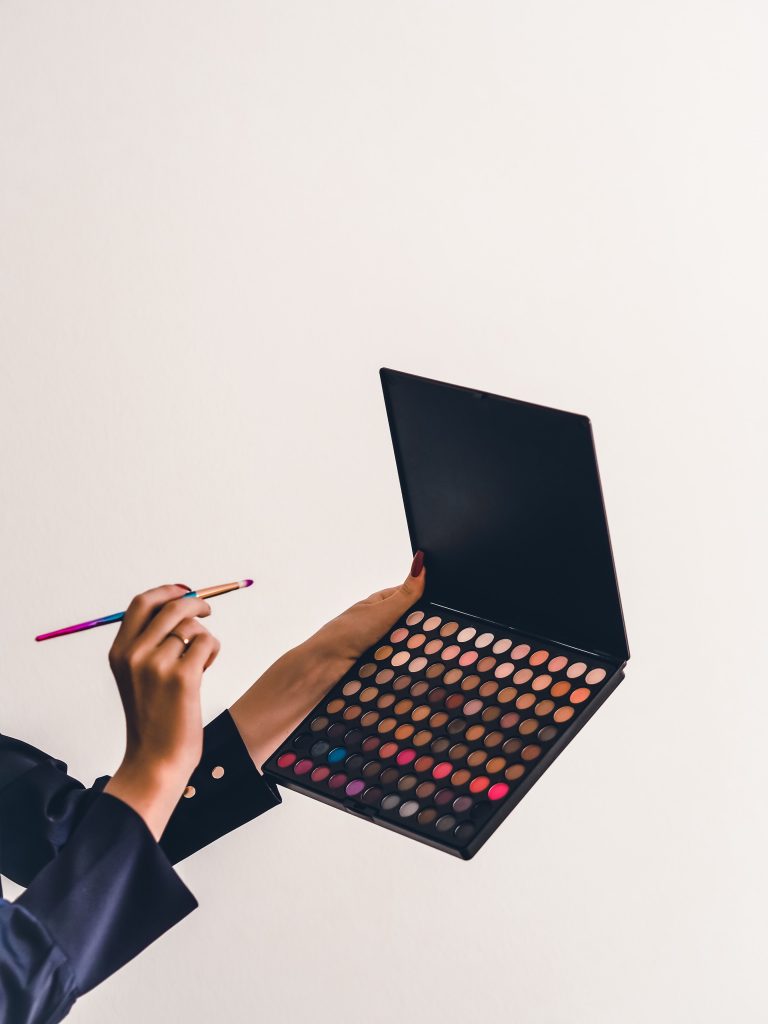 7. Tote Bags:
These bags are simply cute. They are usually made out of cloth materials, like jeans or Ankara. If you want to take this gift idea a step further, you can customize their names or pictures on the bags.
8. Scented Candle:
This is becoming common, especially in restaurants, dinner tables and even in homes. Scented candles come in different fragrances. We have not come across any scent that is a turn-off. This is a bridesmaid gift box idea your girls will cherish.
9. Customized Jotter and Pen:
Adding a cute book as a souvenir for your girls is something. It can as well be a diary or notepad. Fancy and colourful books are something to keep, for use in the future. Some books come in wrapped with brown paper, coloured paper, or even the popular Ankara fabrics.
10. Throw Pillows:
Nowadays, throw pillows do more than sitting on armchairs. They beautify a place and add comfort while you sit or rest. Your bridesmaids can as well cuddle their throw pillows, especially if they have their names or pictures on them. Talk about loving up on themselves.
11. Feet Scrub:
Still, in the spirit of self-care, we have our next item as the Feet scrub. Every once in a while, they will need something to scrub off dead skin from their feet. The feet scrub will keep their feet from smelling when they wear shoes for a long time. This is a thoughtful bridesmaid gift box idea that you should definitely consider.
12. Fancy Keyholder:
Keyholders are life-savers, and the most amazing part- you will be the hero! They will have you to thank because you were thoughtful enough to gift them something this essential. The keyholders do not have to be extremely fanciful. Many wedding keyholders come branded with the couple pictures, names or initials.
13. Pyjamas/Night wear:
The most common night wears come in free sizes. Because of this, it is easy to figure out the size to suit each lady. You can also turn up the heat with some sexy lingerie. These will be appreciated. They come in gowns, bralettes and/or shorts, either in the net or soft cotton.
14. Bridal Robes:
Often, the bridesmaids wear robes during the bridal shower. Why then do we suggest this as a good bridesmaid gift idea? Since your brides will be receiving their presents during the shower, it will be nice if they could unbox all of their gifts at once. Adding the bridal robes to the gift boxes is a smart idea also.
15. Make-up holder:
This bag will hold all of their products together. For ladies whose old make-up bags are crying for relief, you will be coming to their rescue. The make-up holder can either be transparent or otherwise. Something with a zip or a Velcro will be most valued.
16. Lip Gloss:
This is a staple beauty product. Lip glosses are every lady's best friend. When they have this product gifted to them, it is a subtle reminder to always keep their lips moisturized. They will thank you for this.
17. Edge Control:
Edge control is a must-add to your bridesmaids gift boxes. It is a hair product you can apply to the edges of your hair so it can stay in place. One beautiful thing about this gift idea is that it does not have to be big. Most products have their small sizes in stock. Besides, a little of this goes a long way in keeping those edges snatched.
18. Tie-Dye Tees:
Tie-dye products are the new cool these days. They can be made in different patterns and colors, depending on the type of adire vendor making them. You can also tie-dye your shorts, stocking pair, bucket hat, or even headband. They are beautiful bridesmaid gift ideas.
Finally, you can also be creative with the gift box itself as it is what holds all these items together. It can be a gift bag or wrapped boxes with each bridesmaid's name printed on her box. You can also attach personalized, handwritten notes to the boxes so your ladies can have a good read.
We know you found this helpful. See also Groomsmen Gift Boxes Ideas.
Let us know which of these items you'd adding to your bridesmaids gift boxes in the comment section.
Bookmark www.naijacupidweddings.com for more interesting updates on wedding planning.