The wedding night is perhaps one of the most high-stakes nights of one's life. A lot is expected to happen in that one single night. Traditionally, it's supposed to be a nonstop sexfest, full of romance straight from chick flicks and tenderness, the likes of which has never been seen before. That perfection is impossible — such is the nature of insanely high expectations — but what do couples really do on their wedding night? Do they have sex? Is the wedding night all it's cracked up to be? Well no. With statistics showing that anywhere from 25% to 52% of couples don't even get around to having sex, we figured we give you some tips on what you can do instead.
1. Rest
If you're Nigerian, then you probably know how energy-sapping and time-consuming the wedding planning process is around these parts. You've had to do market runs, look for vendors, sort out venues, pick out your dresses, visit in-laws and your family members all through months leading to the wedding. Add that to the stress of the wedding day itself.
While everyone assumes you're making love on your wedding night, we advise that you rest. We know hormones are raging hot but what's one more night? You have forever to explore. So, rest!
2. Eat
Why would you even think of having sex when you've not had something to eat? Do you want to collapse right in the middle of it? Though the food at weddings is an integral part of weddings in these parts, most couples never get to eat throughout the entire day. They end up getting home hungry. Instead of jumping into consummation, eat. You can eat leftovers from the wedding or choose to grab something to eat on your way home. Either way, ensure your belly is full. Then return to the first option – REST!
3. Gist
After the wedding, the bride and the groom will want to sit down and analyze what happened throughout the day. You will want to talk about how your friends danced, how that aunty was just acting like the manager of the gifts. You can also tease each other about the whole wedding event. Why does the conversation have to be that night? Because gossip, like bread, is best eaten when it is fresh. And what are you guys, if not each other's primary gist partners?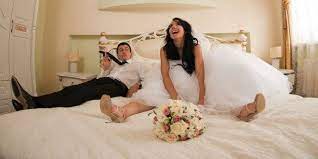 4. Count Money
Of course, why would you leave that out? Spraying money is an integral part of weddings in Nigeria, and it's your responsibility to make sure someone you trust helps you pick them up. When you get home later that night, sit down as a church usher and sort out the cash, stacking them up note by note. Money comes first, please. Without it, you both would not even be together (LOL). You can use what you get to pay up outstanding bills from the wedding.
5. Relive Your Wedding Through Photos On Social Media
Many brides and grooms might experience "wedding withdrawal" immediately after their big day has ended. All the planning and preparation and now… it's over. But there is a way to relive your wedding—through all the photos and social media posts that you can easily scroll through via your wedding hashtag. And it turns out that one in four couples spend at least some time looking at photos of their wedding posted on social media on their wedding night.
Yes, it might seem pretty vain to look at pictures of the wedding instead of, you know, actually enjoying being married, but we think it's simply a way to look back on the day fondly, and laugh at the antics you may have missed while you were focused on the ceremony.
6. Plan Your Honeymoon
In most cases, honeymoon planning is done before the wedding. But if you haven't yet decided on the place and activities, now is the time to plan. If you leave for your honeymoon right after your wedding, the wedding night is when you should be packing and sorting out stuff. Reconfirm your flight tickets and hotel reservations, and ensure passports are intact. There would be a lot of time to have sex on the honeymoon, so why rush it? You don't want to miss your flight which you've paid a lot for just for minutes of pleasure.
7. Open Gifts
It can be pretty exciting to amass that pile of envelopes during your reception and for some couples, waiting to open those wedding gifts can be downright impossible. If you choose to go this route, just be sure to keep track of who got you what (an online guest list tool can make this super easy), and stash the gifts in a safe place before turning in for the night!
8. Party All Night
For some couples, the wedding night extends until the wee hours of the morning. Over 21% of couples stay up all night partying, even after their reception technically ends. If you and your new spouse are the party-all-night types, we recommend hosting an after-party so that your pals know where you'll be post-reception. Whether this means hitting a favourite bar or drinking around a campfire, the celebration can continue as long as you have the energy to keep partying!
What are the things you consider better than sex that couples can engage in on their wedding night? Or what would you and your better half be doing on your wedding night? We'd like to hear your thoughts in the comments.